Vicetone at Parq Nightclub
On their new EP Elements, Dutch production duo Vicetone realize their musical vision with greater precision and power than ever before. The follow-up to 2016's Aurora, the EP is the first release recorded in the Nashville home custom-built to maximize Vicetone's creative output: a state-of-the-art space housing two separate studios for longtime collaborators Ruben and Victor. The result is a body of work that expands on the melodic ingenuity shown in past hits like "Nevada"—now at 42 million streams on Spotify, bumping their total combined streams across all platforms to over a half- billion—and delivers Vicetone's own distinct brand of endlessly surprising, emotionally charged dance music.
Growing up in the Dutch city of Groningen, Ruben and Victor started creating music together in college. Not long after making their debut with "Harmony" (a 2012 release on Monstercat), Vicetone began landing gigs around Europe, and soon took on a relentless touring schedule that now includes massive festivals all across the globe. Known for their high-energy live show, the duo aspire to bring that same unbridled vitality to their recordings—a mission that closely guided the making of Elements. "We'd never put out a song that we don't get goosebumps from, either while producing it or playing it once it's finished," says Ruben. "To me that's the most incredible thing as a listener: to get an actual physical reaction from a piece of music. If we can give other people that feeling with our songs, then we've done our job."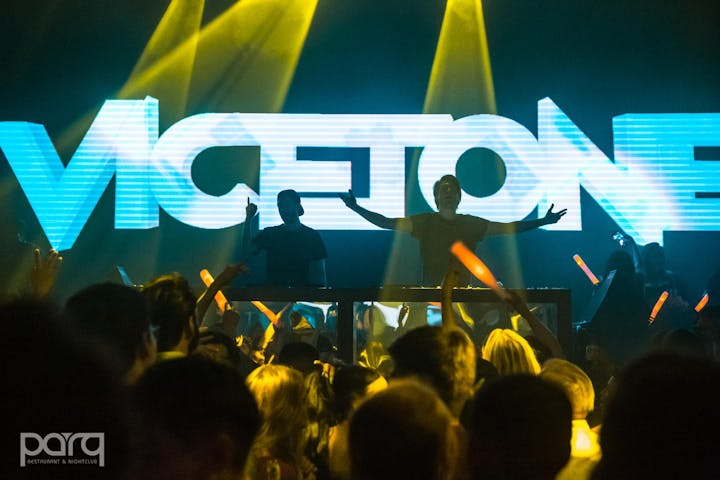 Guest must arrive by 11:30pm for guaranteed entry. Failure to do so may result in loss of reservation and ticket will not be refunded.
* Guest is required to bring a printed copy of the scannable ticket (or a scannable ticket on their mobile device) and e-mail confirmation along with the credit card that the ticket was purchased with, in order to gain entry to the venue.
* Guest must be at least 21 years of age and present a valid government issued photo ID at the door. Copies, paper, or photographs of IDs will not be accepted. U.S. residents must bring state or federal issued ID; Non-U.S. residents must bring a valid passport or global entry card.
* Tickets are non-transferrable and may not be exchanged. LOST, STOLEN, ALTERED OR DESTROYED TICKETS WILL NOT BE REPLACED, REFUNDED OR EXCHANGED FOR ANY REASON. TICKETS HAVE NO CASH VALUE.
* DJ and event subject to change without notice.
* All ticket sales are final and nonrefundable. Venue is not responsible for talent cancellations or closures due to inclement weather or other unavoidable events. Tickets are non-refundable.
* Venue reserves the right to delay or deny access into venue due to capacity restrictions.
* Guest must comply with all venue dress code requirements. Appropriate dress is required and strictly enforced. No athletic gear of any kind including flip flops, tennis shoes, shorts, hats, etc. No chains, offensive prints, torn/cut-off or baggy clothing.
* All guests and bags will be searched for prohibited items including but not limited to, weapons of any kind, illegal drugs (including marijuana products), alcohol, medications, vitamins or supplements, selfie sticks, party props, containers and recording devices. If you elect not to give consent to such searches, you may be denied entry to the event without refund or other compensation. Prohibited items will be confiscated and not returned even if guest is denied access or removed from venue.
* Guest must comply with all venue policies and disregard or violation of such policies or these Terms and Conditions will automatically invalidate ticket(s) purchased and guest will not receive a refund of any kind and guest will be denied access to venue.
* Venue reserves all rights, including, without limitation, the right to cancel, suspend or modify the event for any reason at its sole discretion